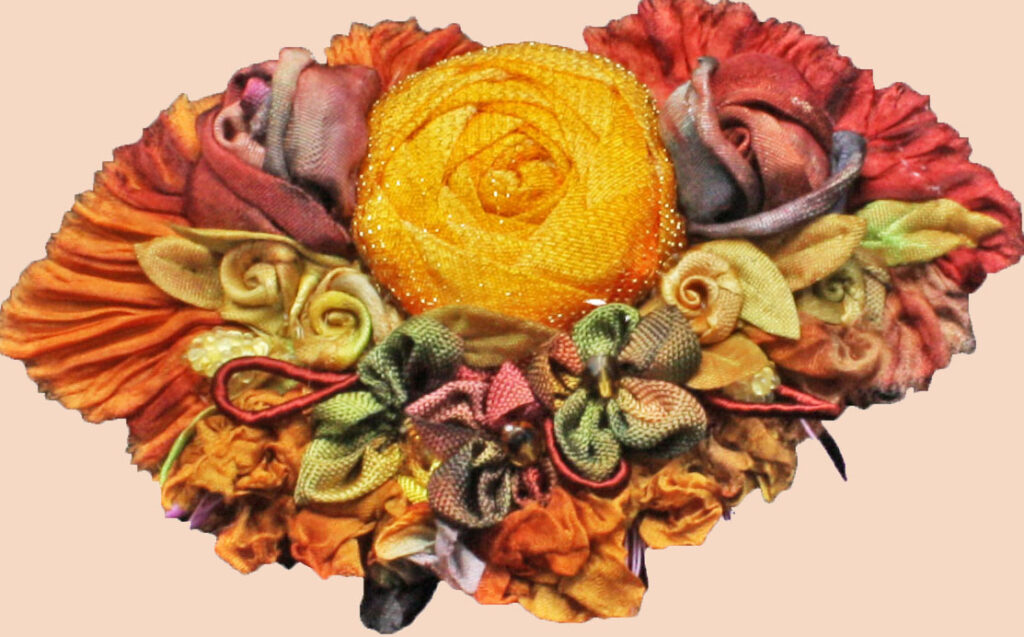 Our business has been a journey for us both. We started out making our art and wanting an outlet to share it with others and to sell some of the pieces. Then, in our journey, we developed our hand dyed fabrics and trims for our own art. As we showed pieces that used them we were often asked where we purchased the fabrics and trims. We realized that other artists also could make use of them so we began to sell them. When we taught classes, we used the tools and supplies that we had discovered and loved. Our students invariably asked where we got those wonderful tools and supplies, so again we added some of those products that were hard to find. We love to embellish our own pieces and we collect and make small items that we simply keep on hand to add to a work as needed. As our customers took note of those items they again, asked us if they could purchase them, so we added them to our product line. Our sculpted art pieces were the source of our molds and impressions product line. So many times people would ask us if we had a mold or if they could just buy that face impression from one of our art pieces. We are constantly discovering "new" items and developing different applications for products that we use on our pieces. We suspect, that our customers will continue to ask us: "Where did you get that?!" We don't anticipate an end to our journey any time soon so please check our new products tab to see what we've discovered or developed lately.
Diane Zammito
Born a "Yank" and raised a "Reb." Contrast and dichotomy have always been a part of my life. The move from Waltham, Massachusetts to Laredo, Texas occurred right as I was supposed to begin to speak. Laredo, Texas is a border town, where one was more likely to be greeted in Spanish than in English. The result of that move was that as a child I was very slow to speak. Couldn't figure out which language I was supposed to do it in!? Those roots engendered in me an appreciation for differences and the enrichment they bring.
Besides my convoluted heritage, I was profoundly influenced by my maternal Grandmother.  She was a straight laced, strict, Victorian lady who would settle for nothing less than perfection.  LOVED her like crazy!  She taught me to sew, crochet, the love of fine things, and that shoddy work is NEVER acceptable.  To this day, I hear her saying to me:  "Don't leave seams unfinished!" and "Do it well, or don't bother!"  Her work was EXTRAORDINARY.  I still aspire to reach her level of perfection.
I was always very artistic as a child. We were not a wealthy family, so my artistic outlook was limited to supplies at hand. I remember I was preschool aged when I made a whole house of doll-sized furniture out of cardboard and newspaper. I wish I still had it! As I got older, I took up sewing with a great passion. I made everything from clothing to shams. Over the years I tried a variety of crafts, cross stitch, knitting, Victorian ribbon work, silk ribbon embroidery. Tried just about everything that came around.
I also found time, in between my artistic explorations, to get my education. I got my undergraduate degree in Anthropology and then returned to school and got my MBA. To pay for my expensive, extensive hobbies, I worked full time as an analyst for the City of Las Vegas.
As usual, I was rather bored and looking for something new when I discovered teddy bears.  WOW!  That was a kind of sewing that was even more creative.  Made a bunch of bears, and finally decided my favorite type (and, of course, the hardest) was real fur bears.  Still enjoy making bears, but again my creative curiosity (A nicer way to say bored!) was looking for a new venue.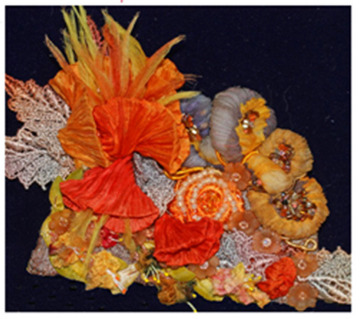 That was when I found the doll club here in Las Vegas and met Sandy. I have to tell you, she wasn't all that impressed with me, but I was TOTALLY impressed by her work. I determined that I was going to make an impression on her. Sandy is reserved and somewhat taciturn. I, on the other hand, am emotional and volatile. They do say opposites attract . . . once they get over the shock.
It took a while for her to get used to me, but as we went through that process we both realized that those profound differences in us brought out the best in our artwork! We approach everything differently! I love tiny miniatures; Sandy loves big and bold. I have to have a plan; Sandy is a "go for it" from the gut artist. I name everything and it has to have a story, Sandy's deadpan reply is: "Why?" We formed a partnership that has been FANTASTIC! I learn from Sandy every day. She is my friend, my inspiration, my muse and sometimes a prickle. Wouldn't trade her for anything! Her gifts are myriad, and I feel so fortunate to be in a partnership with her. I aspire to reach her level of artistry!
Sandy Leal
Born and raised in the Midwest, art was what I did during those long winters. I started with sewing and then experimented with painting, macramé, ceramics, decoupage, jewelry, stamping, scrapbooking, you name it and I tried it. My sewing led me to dolls, and when I needed more than figurative art, I was fortunate enough to meet an artist that would change my creative direction. She probably is not aware of the influence she has had on my art but without her, I may not have found my way to mixed media. Feeding change to me in very small doses, she finally convinced me that it was OK to "always" be outside the box. With that in mind, the more unusual the project, the happier I am. Thank you, Jean for your friendship and for the many hours of mentoring you have given me through the years.
Only recently did it occur to me that I have been doing mixed media my entire life. I just wasn't incorporating all of the mixed media techniques and elements I was learning into one piece. Each skill I learned was used independently. Myopic is the word my partner uses periodically to describe me.
I have been married for 30 plus years and have a blended family consisting of 3 children, 4 grandchildren and a couple of animals we have come by via the grandkids. In 1979 my husband "saved" me from the Midwest, as he likes to relate it, (the humidity did curl my hair terribly) and we moved to Santa Rosa, California. Over the next 20 some odd years, we moved many times throughout Northern California. In 2000, we retired to Las Vegas. I have always thought of myself as a small town girl but I love this big city.
Thrift stores fascinate me and I am totally addicted. I love to find that unique item, of no value to anyone but me, and make it the focal point of my current project. If not the focus, it may serve as my inspiration, a setting, or, just the solution to an engineering problem I'm having. My partner is a great one for coming up with an idea and then handing it off to me to figure out the mechanics.
My art is always changing. To insure this, my completed projects are disposed of quickly so that they cannot influence my current work. My mantra is never to be boring.
Since the start of our business in 2010, my partner has taught me the value of using only the finest materials in our projects and that "bigger" is not always better. She is a master of fine, detailed work and has taught me everything I know about Victorian ribbon work. We are as different as two people can be except in the essentials. We both have very high ethics and once we commit, it gets done. Our partnership requires the same work as a marriage and mutual respect is of the utmost importance. Di doesn't put much stock in astrological signs, but I think that my Libra and her Scorpio are a great combination of traits that make our partnership work.